How to Become a Bookie in College?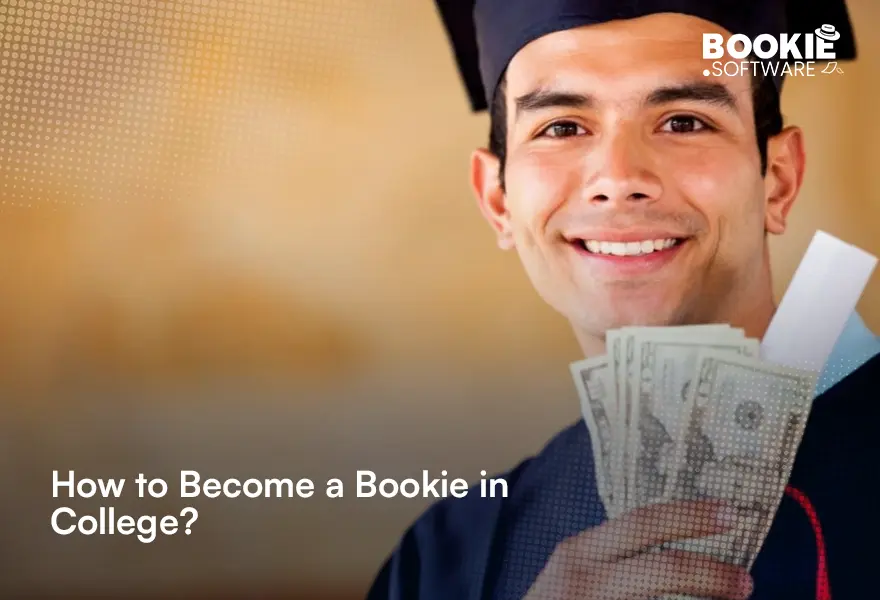 Instant ramen and minimum-wage jobs are college student stereotypes that seem to never go out of style. But as a student, these things get pretty old pretty fast. Having $100 to your name is never a good time.
But what if we told you that you could be making quick and easy bank as a bookie? Well, it's true.
Here, we're going to talk about how to go about becoming a bookie in college. Read on to learn how to start generating bookie income and trading in ramen for restaurant meals.
Budget Your Time Wisely
High-performing college students spend about 10-12 hours per week studying for every credit course they're enrolled in. This comes out to about 50-60 hours per week depending on how well you understand the material.
Admittedly, most students don't spend this long on their studies. It usually comes out to about 30-50 weekly hours. Still, that's a pretty huge time commitment on par with a full-time job.
That's why a college bookie usually can't be a full-time agent. They need to take bets and make lines in between their studies.
Be realistic about how much time you can spend per week on your bookie business. This will let you determine how many bets you can take, what sorts of events you can offer betting on, and whether you can take advantage of features like live betting.
You can always grow and expand later, so be realistic now while getting your foot in the door. Even small-time bookies can make around $30,000 annually, which is way more than you'd get at a part-time minimum-wage job.
Understand Laws About College Sports Betting
As a college bookie, offering betting options on college events just makes sense. But some states place restrictions on bets when it comes to college teams.
If you live somewhere like Maryland or North Carolina, you're in luck and don't need to worry about these limitations. If you're in a state like Oregon or Virginia, though, you might not be able to offer college sports betting options at all.
Most states with legal sports betting have a happy medium. You can usually bet on sports at large with the caveat that you don't offer props betting on college teams.
Just check the restrictions and limitations available in your state and the other areas you plan to service. You'll be good to go when equipped with that knowledge.
It's also important to understand your place in the bookmaking world as an offshore bookie. You probably won't have a state-regulated sportsbook despite working with a licensed partner. This means that you can take bets from players in any state with legal gambling, but you won't be subject to checks or get protections from the government.
Consider Major League Events
Regardless of restrictions on college sports, legal gambling states usually have virtually no limitations for major-league betting. People under 18 or 21 won't be able to bet, but beyond that, you can basically offer betting options on any NFL, NBA, or MLB event.
Many people out there are major league fans, and they're always looking for ways to bet on quality bookie software. Research what teams are popular near you and figure out what people are most likely to bet on. Spend your valuable time researching odds and setting lines for the most popular events.
When you work with major league bets, you can offer tons of different betting options. Props betting is legal at these levels, as are live betting features that let players put money down in real time during a game.
The possibilities are limitless, especially when you save time by working with Bookie.Software's reputable sportsbook services.
Use Managed Online Bookie Software
When you sign up for our bookie platform, you'll become one of our partners. This means that we'll work to help you save time. You can make the most of your bookie services without cheating on your college studies.
You'll gain access to professionals who will help you set up a bookie website. We work to ensure that your skin appeals to bettors. More importantly, we ensure that it's user-friendly on both the agent and player end for a seamless experience.
PPH software is ideal for college bookies looking to save money. Because most college students don't have a lot of money, startup fees can be unmanageable. Quality PPH technologies can make this easier because Bookie.Software has already footed these bills for you. As our partner, you can easily set up shop within hours and start taking bets… no logistical fees necessary.
Plus, since you don't pay for players who are no longer actively using your sportsbook, you'll always be pulling more money in than you're putting out!

Security is a core benefit of using our pay per head bookie software. Unlike many competitors, we only offer Bitcoin payment methods. You will pay your sportsbook fees in cryptocurrency, and players will bet in Bitcoin and receive crypto payouts.
Manage Risk Professionally
While becoming a bookie is generally lucrative, there's still risk involved. It's possible that a severely underestimated underdog will come out on top and dozens of bettors will win big money. That's why it's always important that you keep some money in reserve for emergencies.
Luckily, though, there are easy ways that a college bookie can decrease the risk of losing money. Setting sharp lines means that you can hedge losses and minimize the chances of losing a lot of money. You can also set limits on certain players that you suspect of being professional gamblers.
Start Becoming a Bookie the Right Way
Now that you have some tips for becoming a bookie, it's time to begin generating bookie income between college courses. Our team is committed to helping you set up shop quickly. We also offer a 2-day free trial with 0 obligations so you can experience our services before making a commitment.
We offer the cheapest PPH services on the web at the low price of just $1 per bettor. Sign up for Bookie.Software today to begin offering bookie services to other college students (and wider audiences as well.)